Money, Work, & Business
There is a lot of misunderstanding when it comes to money and how it is to be stewarded. Your work and or business is a way for God to bless you and give you the resources to extend His Kingdom influence in the world.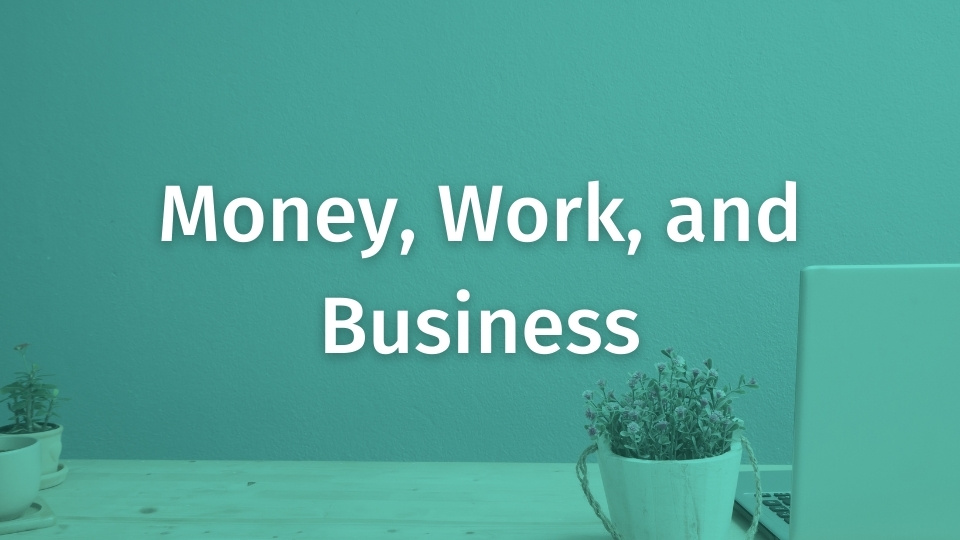 A Time and Place for Everything
12-Lesson class with Sue McMillin
One of the reasons most people struggle with disorganization is because of the way they think. In this class, you will learn to think properly about getting organized and find order in your home, habits and heart.
Discover simple things you can do to reduce your stress, redeem the time, and reclaim lost territory!
This powerful and practical training unveils 12 biblical precepts that when applied bring divine order to your home, habits, and heart.
Part 1: Organizing Your Home
Lesson 1: Prepare yourself and your home for transformation
Lesson 2: Remove obstacles that hinder your achievement
Lesson 3: Complete the whole by tackling the part
Lesson 4: Be a good steward of what you own
Part 2: Organizing Your Habits
Lesson 5: Guard diligently your priorities
Lesson 6: Reject distractions that will keep you from your destiny
Lesson 7: Do "right things" before doing "things right"
Lesson 8: Protect what God has entrusted to you
Part 3: Organizing Your Heart
Lesson 9: Be content in your design and calling
Lesson 10: Embrace your seasons in life
Lesson 11: Redeem the time
Lesson 12: Know God's purpose for your life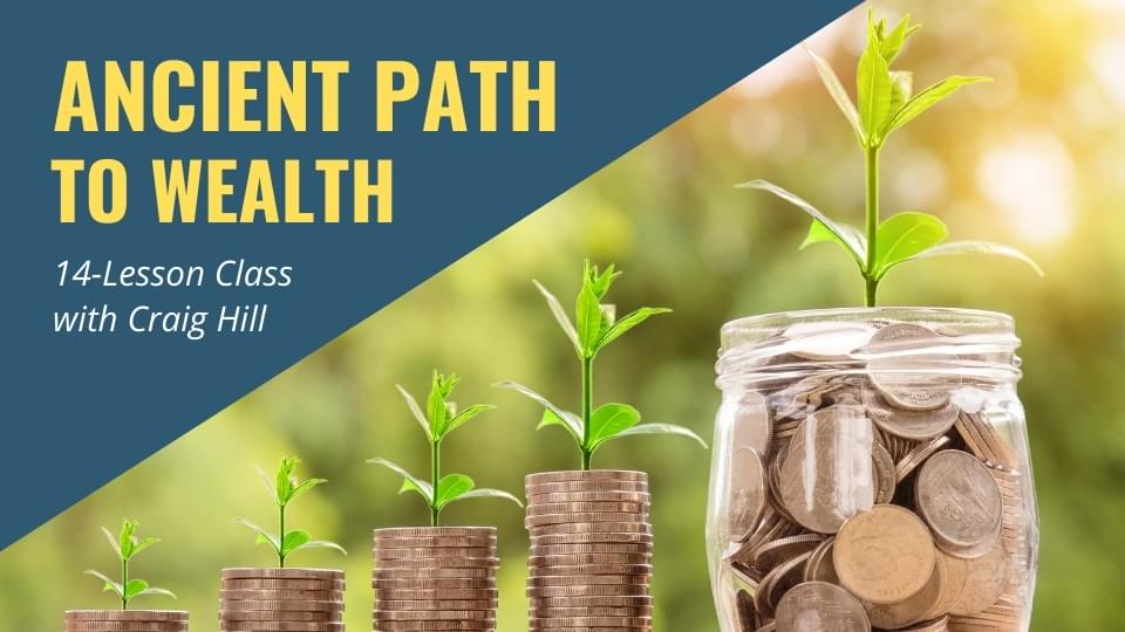 Ancient Path to Wealth
14-Lesson class with Craig Hill
Discover Godly wisdom of the ages for how to acquire, manage, and increase wealth.
You will learn that wealth really isn't about money at all—the primary issues are your heart and your habits. Some of these habits you know and don't do; others perhaps you actually do, and then there are some which may be completely new to you.
Through stories of real-life situations, many from his own life, which plainly demonstrate each concept, Craig encourages you to take hold of this Ancient Path life truth so that you may prosper.
Lesson 1: What are the Ancient Paths?
Lesson 2: Meek vs. Debt
Lesson 3: Mammon's Scheme
Lesson 4: Step up to Debt
Lesson 5: Sparrow Faith
Lesson 6: For the Vision
Lesson 7: Five Jars
Lesson 8: How Much is Enough?
Lesson 9: Supernatural Multiplication
Lesson 10: Investing in Multipliers
Lesson 11: Sons of Issachar
Lesson 12: Preparing for Cycles
Lesson 13: The Good Plan
Lesson 14: Financial Eunuchs
Become a Possibilitarian!
12-Lesson Class with Lynn Hare
The path of life is not always easy. But it's easier when you know the Holy Spirit's empowerment, purpose, and explosive possibilities. In this class, you will learn to become a possibilitarian—someone who activates possibilities with hope-filled expectation.
Section 1: Empowerment
Lesson 1: Integrating Your IQ, EQ, and SQ
Lesson 2: The Magnet, Holy Spirit Swish, and Massive Favor
Lesson 3: Ways to Amp Up Your Direct Line to Heaven
Lesson 4: Mistakes in Problem-Solving?
Section 2: Purpose
Lesson 5: The Power of Your Destiny Verse
Lesson 6: How to Deal with Injustice
Lesson 7: Tips for Focusing on God's Voice in a Noisy World
Lesson 8: How to Win Conflicts
Section 3: Possibilities
Lesson 9: Become a Possibilitarian!
Lesson 10: The Quest for Self-Forgiveness
Lesson 11: The Role of Angels in Your Success
Lesson 12: Pay it Forward with a Sanctified Imagination
Building a Strong Financial House
13-Lesson Class with Craig Hill
This class will debunk the financial myths you have believed, empower you with principles for building a strong financial future, and allow God to transform your finances like never before.
Lesson 1: Build a Solid Foundation
Lesson 2: Seek Vision, Not Provision
Lesson 3: Ten Symptoms of the Spirit of Mammon
Lesson 4: Channels vs. The Source
Lesson 5: Understanding Wealth and Money
Lesson 6: Learn to Manage Money
Lesson 7: Close the Open Circle
Lesson 8: Sowing and Reaping
Lesson 9: Manage the Lord's Tithe
Lesson 10: Eliminate Your Debt
Lesson 11: Wealth Transfer Equation
Lesson 12: How to Get Rid of Debt
Lesson 13: Learn How to Multiply
Creating Order out of Chaos
4-Lesson Class with Sue McMillin
Are you stressed out at work? Do you have too much to do and no time to do it? Do you feel overwhelmed by too much paperwork? Do you need help to increase your productivity? If so, there is hope.
When you think properly about getting organized, you will become organized. The only prerequisite to getting organized is the willingness to change. Once you are willing to change, the training, the motivation, and the time to do it will flow your way.
The purpose of this class is to show you strategies for implementing organization in your work and home.
Lesson 1: Purge Old Files and Outdated Paperwork
Lesson 2: Files using FileMAP?
Lesson 3: Loose Papers using the 3D Process
Lesson 4: Small supplies using the 5-Step Procedure, Space Planning, and Maintenance
Crushing the Spirit of Poverty and Lack
5-Lesson Class Sandie Freed
This class will empower you to identify areas in your belief systems that have allowed the spirit of poverty to rob you of financial blessings, and teach you to start walking in the blessings God has for you.
Lesson 1: How to Walk in Kingdom Wealth
Lesson 2: Defeating the Spirit of Mammon
Lesson 3: Babylon and the Deceitfulness of Riches
Lesson 4: Where Is Your Treasure?
Lesson 5: Cycling Out of Poverty and Lack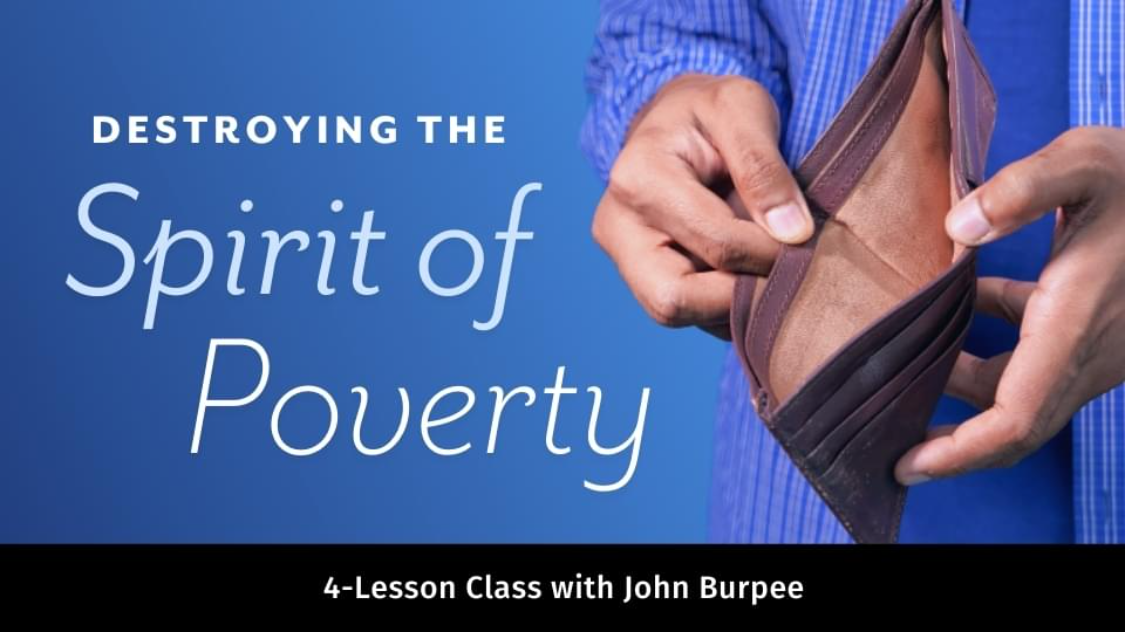 Destroying the Spirit of Poverty
4-Lesson class with John Burpee
The spirit of poverty is more than not having enough. It is a spirit that feeds the fear of never having enough. It convinces you that the greatest victory you could ever win is to not lose. But you are called to advance the kingdom, and God will give you EVERYTHING you need to accomplish His purposes! Your success is dependent only upon your obedience to God.
This teaching will help you have more than enough so you can give generously to those in need.
Get Out of Your Own Way
8-Lesson Class with Sandra Steen
It is vital for you to get out of your own way and live a God-submitted life that advances God's Kingdom. This class will empower you to impact the Kingdom, make wise decisions, and display the kind of joy that makes people wonder what you have discovered that they haven't.
Lesson 1: Creating an Environment for Clarity
Lesson 2: Re-evaluating and Reaffirming Your WHY and Your I MUST!
Lesson 3: Creating Your Multi-Dimensional Mission Statement
Lesson 4: Designing Your R.A.W. Plan (Results, Abundance, and War)
Lesson 5: Principles of Imagination for Getting Out of Your Own Way
Lesson 6: Principles of Language for Getting Out of Your Own Way
Lesson 7: Chronological Planning VS a Kairos Moment
Lesson 8: Building the Technology for God's Big Story in You!